Wedding cakes can be stunning to look at, especially if you have it iced with fondant, but it doesn't necessarily mean that a beautiful cake will be as delicious as it looks.
Butter cream has long been the traditional and most popular icing for a wedding cake . There are good reasons why a bride will select buttercream. It is the best the best value when it comes to price per slice. Most wedding cakes are charged according to the number of people it will serve.The texture is creamy and light and not excessively sweet. It is  soft and easy to cut and use to decorate with  designs such as  basket weave and swags.
The flip side  is that because butter cream is made with real butter, the cake may need to be kept in a cool place as heat could cause the decorations to run and drip. You should let the baker know if your cake will be displayed under hot lights, or outdoors, as they can take steps to avoid total meltdown by using shortening instead of butter. The pictures below are cakes using butter cream icing . We love using fresh flowers to decorate the cake which coordinate with the flowers used in the reception.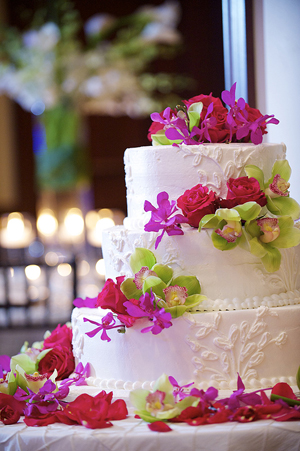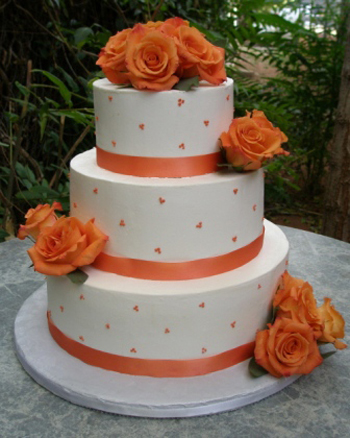 Fondant is popular because it is so versatile, gives a smooth professional finish . The icing is made of sugar, corn syrup, gelatine and glycerine and is rolled out in sheets which are wrapped around each tier of the cake. Rolled fondant wedding cakes are probably the most requested of all wedding cakes today, because there is simply so many things you can do with them. You can bake any shape cake you like and then roll the fondant icing over the top to contour the shape of the cake.The fondant cake is so versatile it can cater for any wedding theme. Rolled fondant, poured fondant and sculpting fondant can all be used with such great effect that the fondant cakes become works of art and the cake maker a true artist.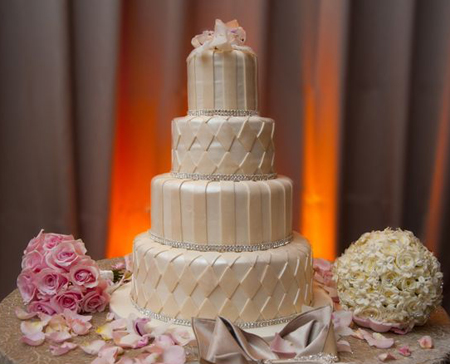 This beautiful fondant cake was selected by our bride from We take the Cake in Fort Lauderdale. The crystal diamond trim set between the layers added an elegant touch to this beautiful cake.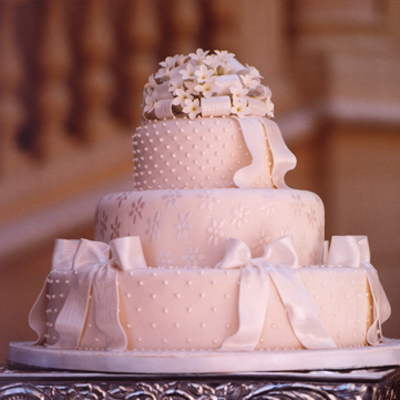 Ana Paz in Miami created this delicate fondant wedding cake with beautiful detail.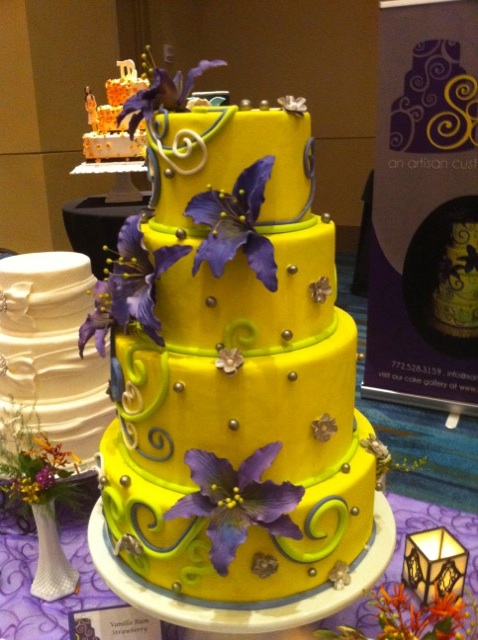 And now for the " wow" a different themed wedding cake designed by Sandra from Sandra's Cakes.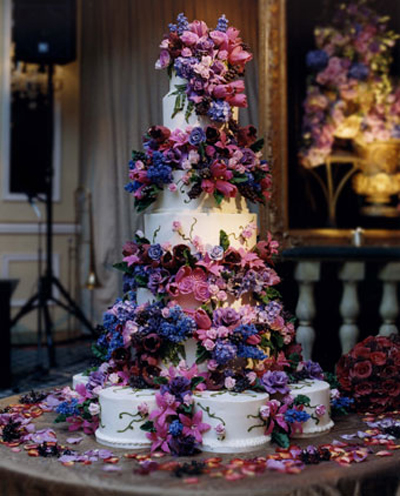 A wedding cake by the " queen " of wedding cake design, Sylvia Weinstock.