Designing a room for a Bar or Bat Mitzvah, Wedding or Social Event, we pay a lot of attention to selecting the right chair to " dress " the table. The chair can add color to the room, work with the theme and create a traditional or contemporary feel to the event space. We are fortunate as the event rental industry have come with so many more choices.
Tip: When pulling together your  budget , we suggest you include rentals as a line item. When working with our clients we pay close attention to budget . With the right selection of chairs and linens, your dollars can go a long way and totally change the look and feel of the event space.
Pictures below are event spaces designed for our clients using different chairs.
70's Theme Bat Mitzvah we selected, The Sally Chair from Bubble Miami . Totally worked with the theme and definitely dressed this table.
A Basketball Themed Bar Mitzvah held on a basketball court.The client wanted her tables to have a modern contemporary fee. The White Valencia Chairs from Classic Party Rental was selected.
Chivari  chairs come in variety of  colors including acrylic . A Wedding in Boca Raton, the  acrylic Chavari Chairs  complimented the acrylic chuppah.
Bar Mitzvah Nautical Theme, white Chivari chairs were perfect  against the blue and white striped linens. Navy blue chair pads were selected match the  table linen.
Pink chivari chairs against a turquoise " bling" table linen. Pink chivari chairs from Classic Party Rental.
A Bar Mitzvah ceremony recently held at The Gallery Of Amazing Things in Hollywood, the ghost chair from Atlas Party Rental were selected. Perfectly complemented the contemporary feel of the museum.
Spandex chair covers from Over the Top certainly added color to recent school prom . The theme was  " Live in Color "  . The  white spandex chair covers with band to match the spandex linen was all we needed to create the look we wanted and totally transform the room.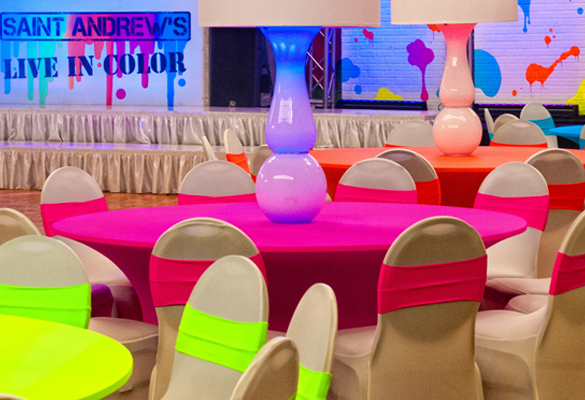 Recent Bat Mitzvah designed by Jose Graterol , not only did we use different size tables but each table had different chairs. White ghost chairs, acrylic ghost chairs and upholstered chairs from Jose Graterol were placed at the head's of the royal tables .
Most important, have fun designing your space and creating your signature look.